A historic summit meeting was held between Pakistan's President Pervez Musharraf and the Indian Prime Minister Atal Behari Vajpayee in Agra, from July 14 to 16, 2001. The summit started amid high hopes of resolving various disputes between the two countries including the five decades old Kashmir issue. Both sides started the summit with hopefulness and in a spirit of good will; especially President Musharraf used the phrases "cautious optimism", "flexibility" and "open mind" to describe his buoyant views for the summit. The Indian President also promised to take "bold and innovative" measures and to discuss the "core issue" between the two countries.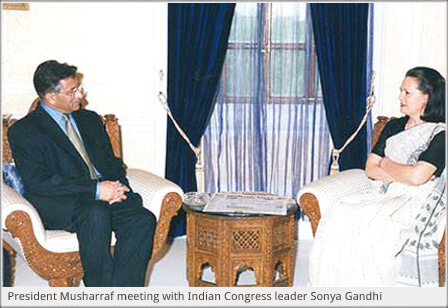 Various rounds of one-to-one talks were held between President Musharraf and Prime Minster Vajpayee. On the first day, a 90-minute one-on-one session was held between the two leaders. The Kashmir issue, cross-border terrorism, nuclear risk reduction, release of prisoners of war, and commercial ties were discussed. The talks went in the right direction and were declared by both the leaders as "positive, frank and constructive". There were hopes that both the leaders would arrive at an agreement and a joint statement or declaration would be made at the end of the summit as the two leaders plunged into serious talks.
Despite reservations from the Indian Government, President Musharraf also held face-to-face meetings with the top Kashmiri leadership represented by the All Parties Hurriyat Conference.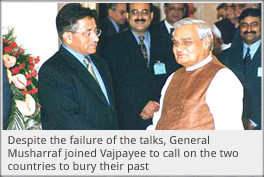 The two-day Agra summit between President Pervez Musharraf and Prime Minister Atal Behari Vajpayee, however, collapsed and no formal agreement could be attained. The two sides remained inflexible on the core issue of Kashmir, despite five long and arduous one-to-one rounds between the two leaders and hours of discussion between the two delegations. Despite the failure of the talks, General Pervez Musharraf joined Vajpayee to call on the two countries to bury their past.
He also invited the Indian Prime Minister to visit Pakistan as he felt that the issues between Pakistan and India were much more complicated and could not be resolved in a short time.
This article was last updated on Saturday, February 21, 2004