For a thousand years, Lahore had been a great cultural and intellectual center of the Muslims. Under the Mughals, Lahore boasted of rapid progress in the domains of education and learning. But towards the end of the Muslim rule in India, the Sikhs devastated large areas of Punjab. The annexation of Punjab brought peace to the region, but failed to create conditions conducive to the growth of intellectual and academic activities. The War of Independence of 1857 added to the woes and worries of the Indian Muslims. The Muslims refused to acquire modern education.
Towards the close of 19th century, the impact of Sir Syed's Aligarh Movement was felt all over the Sub-continent and Punjab was no exception. In March 1884, Maulana Qazi Hamid-ud-Din invited his pupil Maulvi Ghulam Ullah Qasuri and a number of other public-spirited persons to a small gathering and set up the Anjuman Himayat-i-Islam.
On September 22, 1884, the establishment of the Anjuman was formally announced and Qazi Hamid-ud-Din was elected its first president. The Anjuman decided to work towards the following aims and objectives:
To arrange for the religious and general education of Muslim boys and girls.
To propagate and defend Islam against the Christian missionaries and Hindu revivalists.
To counteract the propaganda against Islam through speeches and publications.
A team of selfless workers associated themselves to the cause of the Anjuman. Among them were Nawab Sir Fateh Ali Khan Qazilbash, Mian Sir Muhammad Shafi, Sir Muhammad Iqbal, Sir Abdul Qadir, Dr. Khalifah Shuja-ud-Din and a host of others.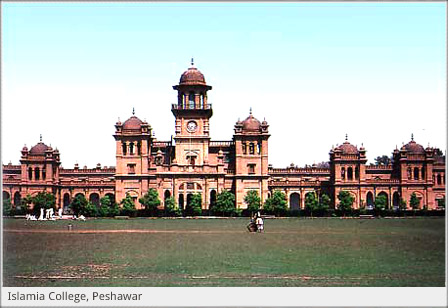 The Anjuman established educational institutions in arts, sciences and technology for men and women as well as orphanages for helpless Muslims, to which widows' homes were later added. The Moplah orphans, the victims of Bihar and Quetta earthquakes, and later the destitute children and widows of the 1947 holocaust, found shelter at these orphanages.
In 1885, the Risala-i-Anjuman Himayat-i-Islam made its appearance, publishing the principles of Islam. In 1892, the Anjuman established the Islamia College at Lahore. This was later elevated to degree level in 1903. The contribution of the college to the general Muslim awakening has been great. Its students played an important role in the Muslim national movement in Punjab. In 1939, the Anjuman established the Islamia College for Girls.
Of these services in the field of education, the Anjuman had the greatest impact on Muslim society and politics. In 1928, the Anjuman expanded its press and published standard works on religious and literary themes, and modern subjects like geography, physical sciences and economics. A landmark in the history of the Anjuman publication was the production of an absolutely correct text of the Holy Quran.
This article was last updated on Sunday, June 01, 2003