Aurangzeb was born on October 21, 1618. He was the third son of the emperor Shah Jehan. Though younger than his two brothers, Dara Shikoh and Shuja, he was by far their superior in competence and character. He was industrious and thorough in his far-sightedness. Even as a prince, he had distinguished himself as an able administrator. He was also a great scholar of the Persian, Arabic and Hindi languages.
Being the eldest, Dara Shikoh was favored by his parents for succession. Aurangzeb was third in line. He challenged the rule of his father and the succession of Dara Shikoh. He was eventually victorious in the battles that occurred between him and his brothers, and in July 1658, he ascended the throne as Alamgir, and reigned supreme till 1707. His reign matched that of Akbar's for longevity.
Aurangzeb was a religious man who believed in simple living. He was the only great Mughal who did not build mighty buildings. He did, however, build a mosque in Lahore, the Badshahi Mosque. Since Aurangzeb believed that Islam did not allow any one to listen to music, he banished all the court musicians, dancers and singers during his reign.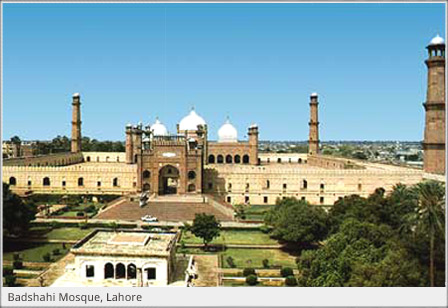 During his 50 years of rule, Aurangzeb tried to fulfill his ambition of bringing the entire Sub-continent under one rule. It was under him that the Mughal Empire reached its peak in matter of area. He worked hard for years but his health broke down in the end. Throughout his life he lived and worked as a simple and honest Muslim. He earned his living by sewing caps and copying the Holy Quran in his spare time. He left behind no personal wealth when he died in 1707, at the age of 90 years.
This article was last updated on Sunday, June 01, 2003