Begum Shaista Ikramullah, the first female representative of the first Constituent Assembly of Pakistan (1947), Pakistan's former Ambassador to Morocco, mother-in-law of Jordan's Crown Prince, and niece of the great leader Huseyn Shaheed Suhrawardy, was born on July 22, 1915, at Calcutta in the prominent Suhrawardy family of West Bengal. She was educated at Calcutta and London. During that period, strict purdah environment was prevalent in the Muslim society of India. Her mother was a traditionalist while her father, an eminent surgeon and politician, was a dynamic liberal who encouraged his daughter to study.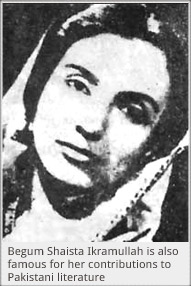 She got married at quite a young age. Her husband was a diplomat and served as Pakistan's first Foreign Secretary. He encouraged her pursuit of modern education. She was the first Muslim woman to obtain a doctorate from the University of London in 1940. Her doctorate thesis "Development of the Urdu Novel and Short Story" was a critical survey of Urdu novel and short stories.
In 1945, Begum Ikramullah was asked by the Government of India to attend the Pacific Relations Conference. Quaid-i-Azam convinced Begum Ikramullah not to accept the offer, as he wanted her to go as the representative of the Muslim League and to speak on its behalf. Six weeks after the establishment of Pakistan, the Quaid asked Begum Ikramullah to go as a delegate to the United Nations.
Begum Shaista Ikramullah was one of the few Muslim women to have taken an