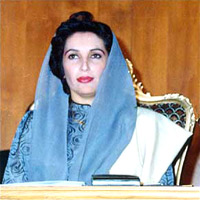 After her defeat in the general elections of 1997, Benazir, along with her children, moved to Dubai because of a voluntary exile in the year 1999. She again returned to Pakistan after almost 9 years in 2007 during the time when General Pervez Musharraf was present. The only reason she agreed to return was that all the allegations that she were facing had been removed through a controversial presidential order under the name of NRO – National Reconciliation Ordinance.

Arriving back to Pakistan was indeed a huge threat toher life but nevertheless she returned to the delight of millions of PPP supporters and fans. Her core reason to return was her wish to participate in the upcoming general elections of 2008.

She landed on Karachi's Jinnah International Airport on 18 October 2007 and was welcomed by thousands of supporters. Sadly on her way to Bilawal House her procession two-suicide bombers blew themselves resulting in over hundred deaths and leaving around 450 people injured. Benazir remained unharmed as she as at that time was resting inside a bulletproof vehicle.

Benazir Bhutto was assassinated on the 27 of December 2007 while she was departing from an election rally that was held at the Liaquat National Bagh in the city of Rawalpindi. The incident occurred when she lifted herself out of her bullet proof vehicle in order to gesticulate to her fans and well wishers. As her head came into view an unknown person fired multiple shots, aiming at her head. At that moment explosions were also ignited resulting in the deaths of nearly 20 people including three security personals.

Unfortunately she was significantly injured and was immediately rushed to the Rawalpindi General Hospital she died during treatment.

Her death shocked millions of her supporters worldwide and caused protests all through the country. Benazir Bhutto even after her death was recognized as a winner of the United Nations Prize in the Field of Human Rights. She was indeed an active politician and her death broke the hearts of millions of people.

Last Updated: Aug 2013

Benazir Bhutto, the eldest child of Zulfiqar Ali Bhutto, was born on June 21, 1953, at Karachi. She attended Lady Jennings Nursery School and then Convent of Jesus and Mary in Karachi. After two years of schooling at the Rawalpindi Presentation Convent, she was sent to the Jesus and Mary Convent at Murree. She passed her O-level examination at the age of 15. In April 1969, she got admission in the U. S. at Harvard University's Radcliffe College. In June 1973, Benazir graduated from Harvard University with a degree in Political Science. After graduating from Harvard, Benazir joined Oxford University in the fall of 1973. Just before graduation, Benazir was elected to the Standing Committee of the most prestigious Oxford Union Debating Society.
In 1976, she graduated in P. P. E. (Politics, Philosophy and Economics). In the autumn of 1976, Benazir returned once again to Oxford to do a one-year postgraduate course. In January 1977, she was elected the President of the Oxford Union. Benazir Bhutto returned to Pakistan in June 1977. She wanted to join the Foreign Service but her father wanted her to contest the Assembly election. As she was not yet of age, Benazir Bhutto assisted her father as an advisor.
In July 1977, General Zia-ul-Haq imposed Martial Law. During the Martial Law, Benazir was allowed to proceed abroad on medical grounds in January 1984, after spending nearly six and a half years in jail. She went into exile in England for two years.
In July 1984, her younger brother Shah Nawaz died under mysterious circumstances in Paris. She came back to Pakistan to attend his burial ceremony. A year later she came back to Pakistan to fight the elections for National and Provincial Assemblies held by General Zia-ul-Haq. When she returned on April 10, 1986, one million people welcomed her at the Lahore airport. She attended mammoth rallies all over Pakistan and kept in close touch with the Movement for Restoration of Democracy. On December 18, 1987, Benazir married Asif Ali Zardari in Karachi. She contested the elections, which were held by Ghulam Ishaq Khan, who had taken over as acting President after the death of General Zia in an air crash on August 17, 1988, at Bhawalpur.
Benazir Bhutto approached the Supreme Court of Pakistan, seeking enforcement of the fundamental rights guaranteed to the political parties under Article 17(2) of the 1973 Constitution, to hold the elections on Party basis. The Supreme Court gave its verdict in favor of the political parties. The P. P. P., without forming an alliance with any party, won 94 out of 207 seats in the National Assembly. With the cooperation of eight M. Q. M. members and 13 members of the Federally Administered Tribal Areas, the P. P. P. was able to get a clear majority in the National Assemblies. Benazir Bhutto was nominated as the Prime Minister on December 2, 1988, and Ghulam Ishaq Khan was nominated the President of Pakistan.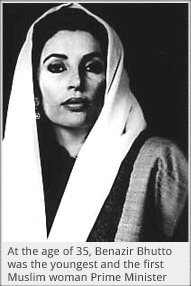 At the age of 35, she was the youngest and the first woman Prime Minister to lead a Muslim nation in modern age. During her first term, she started Peoples Program for economic uplift of the masses. Benazir Bhutto also lifted a ban on student and trade unions. The P. P. P. Government hosted the fourth S. A. A. R. C. Summit held in Islamabad, in December 1988.
On various issues, differences between her Government and the Establishment led to her dismissal by the President Ghulam Ishaq Khan, on August 6, 1990.
Benazir returned to power, by winning the October 1993 elections. The P. P. P. had won the largest share with 86 seats and formed a new Government with the help of alliances, but her own-nominated President, Farooq Ahmad Khan Leghari, dismissed her government again in November 1996 on corruption charges.
Her publications include "Daughter of the East" and "Foreign Policy Perspective".
This article was last updated on Sunday, June 01, 2003