Showing 1 of 1
Benazir Bhutto returned to power for the second time in 1993 after the resignation of both President Ghulam Ishaq Khan and Prime Minister Nawaz Sharif on July 18, 1993. The resignation led to the announcement of fresh elections for the National and Provincial Assemblies. The elections were held on October 6 and 9, 1993, respectively.
The elections were boycotted by the M. Q. M. No party emerged with an absolute majority in the elections. As a result the P. P. P. formed the new government with the help of alliances. Benazir Bhutto took oath as Prime Minister on October 19, 1993. The Presidential election was held on November 13. Farooq Ahmad Khan Leghari, the P. P. P. candidate, won by 274 to 168 votes against the then acting President Wasim Sajjad.
During her second tenure, Benazir again faced trouble from the opposition. In the autumn of 1994, Nawaz Sharif led a "train march" from Karachi to Peshawar. This was followed by general strike on September 20. Two weeks later Nawaz Sharif called a "wheel jam" strike on October 11.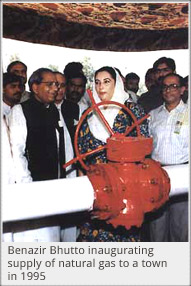 The second tenure of Benazir Bhutto was, however, highlighted by the visit of the U. S. first Lady Hillary Clinton and her daughter Chelsea in 1995. Hillary's visit considerably changed the world's perceptions about Pakistan and highlighted Pakistan as a liberal, modern and forward-looking country. In April 1994, Benazir visited the U. S., and projected Pakistan's stance on the F-16 fighter planes withheld by the U. S. despite payments. Her visit resulted in the passing of the Brown Amendment by the U. S. Senate on September 21, 1995, easing restrictions on Pakistan. It also helped in attracting foreign investors. On the domestic front she continued facing problems with M. Q. M. In spite of all her political endeavors, a smooth relationship could not be established between the Government and M. Q. M.
Benazir Bhutto's brother, Mir Murtaza Bhutto, was assassinated under mysterious circumstances in a police ambush on September 20, 1996. The high-profile killing of her brother in her tenure damaged her political career.
Things were not going well between the President and Benazir's Government. Differences soon appeared and the Government felt that there was interference in the political matters of the Government by the President. President Farooq Leghari dismissed Benazir Bhutto's Government on charges of corruption and mismanagement on November 5, 1996, under the Article 58(2) b of the Eighth Amendment.
This article was last updated on Sunday, June 01, 2003