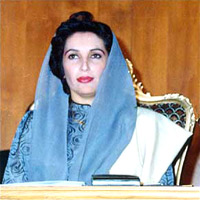 After her defeat in the general elections of 1997, Benazir, along with her children, moved to Dubai because of a voluntary exile in the year 1999. She again returned to Pakistan after almost 9 years in 2007 during the time when General Pervez Musharraf was present. The only reason she agreed to return was that all the allegations that she were facing had been removed through a controversial presidential order under the name of NRO – National Reconciliation Ordinance.

Arriving back to Pakistan was indeed a huge threat toher life but nevertheless she returned to the delight of millions of PPP supporters and fans. Her core reason to return was her wish to participate in the upcoming general elections of 2008.

She landed on Karachi's Jinnah International Airport on 18 October 2007 and was welcomed by thousands of supporters. Sadly on her way to Bilawal House her procession two-suicide bombers blew themselves resulting in over hundred deaths and leaving around 450 people injured. Benazir remained unharmed as she as at that time was resting inside a bulletproof vehicle.

Benazir Bhutto was assassinated on the 27 of December 2007 while she was departing from an election rally that was held at the Liaquat National Bagh in the city of Rawalpindi. The incident occurred when she lifted herself out of her bullet proof vehicle in order to gesticulate to her fans and well wishers. As her head came into view an unknown person fired multiple shots, aiming at her head. At that moment explosions were also ignited resulting in the deaths of nearly 20 people including three security personals.