Humayun "The Fortunate" was the eldest son of Babur. He had three younger brothers, Kamran, Askari and Hindal. Born on March 6, 1508, at Kabul, he learnt Turkish, Arabic and Persian at a very young age. He assisted his father in the governance of the country. In 1520, he was appointed the Governor of Badakshan at the age of 12 years. When Babur invaded India in 1526, Humayun joined him with a contingent from Badakshan. Humayun won a maiden victory in this campaign. He also led contingents under his father's rule against various Afghan insurgents, as well as participating in the battle of Kanwaha. After Babur's death in 1530, he was chosen as his successor. Humayun ascended the throne at Agra on December 30, 1530, at the age of 23, four days after his father's death.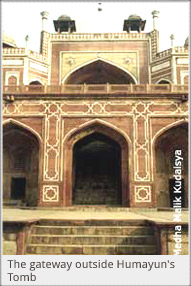 Humayun inherited an empire barely held together by force of arms. It lacked a consolidated civil administration. He faced numerous problems right from the start. He faced troubles from the Afghan nobles, the Rajputs, and most of all from his brothers who were mean and disloyal to him. Unable to judge the growing power of Sher Shah, Humayun was defeated in the battle of Kanauj in 1540. He became a fugitive and escaped towards Iran via Sindh.
While in Sindh, he married a young Persian girl, Hamida Bano, who joined him in his wanderings. A year later in Umerkot in upper Sindh, his first son Akbar was born. Legend has it that Humayun had nothing to give to his followers at this happy occasion except some musk. The musk was broken into pieces and passed among his men. He is reported to have said that one day the fame of the prince would spread like the smell of the musk.
For a period of 15 years, the Mughal Empire lay dormant and Sher Shah founded the Suri Dynasty. However, in 1555 Humayun returned once again, and by his sheer perseverance, was able to recover his kingdom.
Although lacking his father's abilities, Humayun was a cultivated gentleman. He was unrivalled in the science of astrology and mathematics. Mild and benevolent in character, he was very kind towards his brothers; and despite their treachery, forgave them again and again. He possessed a very charitable and magnificent personality.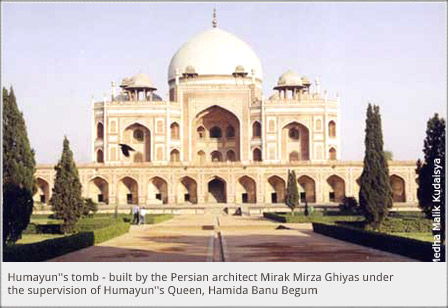 Although Humayun had recovered his kingdom, he was not destined to rule it for long. In January 1556, he met his tragic end by slipping from the famous building known as Din Panah.
This article was last updated on Sunday, June 01, 2003