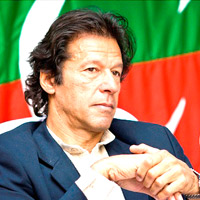 Till date Imran, with the support of his party, continues to strive towards his goal of making Pakistan a country that posses anti-corruption policies. His large rallies, commonly known by the youth as a "tsunami", still influence people. Imran Khan's party was deemed as the main rival of Mian Nawaz Sharif and his party PML-N in the general elections of 2013.

Photo by: Jawad Zakariya

The main objectives of his party were to cleanse and purify Pakistan from corruption present today.

Before the elections 2013 numerous surveys convey Imran Khan to be the most popular leader of the country because of the objectives of Pakistan Tehreek-e-Insaf (PTI), which were based on the important issues,Pakistan faces these days. On 23 March 2013, in a gathering at Iqbal Park Lahore, Imran Khan promised to change the view of Pakistan and aimed to make Pakistan a peaceful, progressing and economically stable country.

Days before the election, Imran Khan suffered a traumatic fall from a forklift while being lifted to an overhead platform during one of his numerous rallies. This incident caught the attention of millions of fans and well-wishers who gathered around the Shaukat Khanum Memorial Hospital chanting slogans and praying that their leader would recover soon. Despite his fall Imran continued to address his supporters through video link from his hospital bed.

Imran Khan's party won the elections in one of the four provinces of Pakistan and has now successfully set up its government in Khyber Pakhtunkhwa where Pervez Khataq is the Chief Minister. In addition PTI is also the opposition party nationwide.

Last Updated: Aug 2013

Imran Khan the former captain of Pakistan Cricket team and the leader of the Tehrik-e-Insaaf was born on November 25, 1952 at Lahore. He received his initial education at Aitchison College, Lahore and then took admission in the Royal Grammar School, Worcester in England. Thereafter, he went to study Economics and Politics at Keble College, Oxford from 1973 to 1976.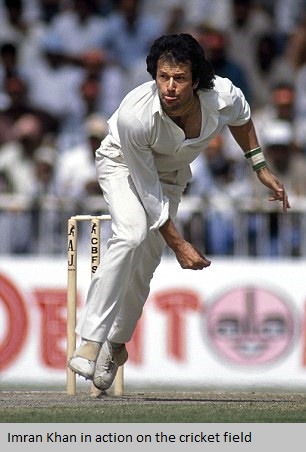 Cricket was very much a part of Imran Khan's family. Inspired by his cousins, Javed Burki and Majid Khan who were first class cricketers, Imran Khan started playing cricket during his school years at the age of thirteen. He also played Cricket for Oxford University. He made his first class test debut for Lahore at the age of sixteen and his test debut in England, 1971 when he was only 18 years old.
Being an all-rounder Imran Khan achieved reputation as one of the fastest bowlers of his times and became the captain of Pakistan cricket team in 1981. He led Pakistan to numerous victories. Imran led the Pakistani team to its first victory against India on their home soil. His glorious victory was, indeed, to win World Cup victory at Melbourne in 1992 when he made the nation highly amused and proud of him during the holy month of Ramadan. Imran Khan was one of the few cricketers who captivated their fans by their charismatic and indomitable personality till the very end of his career. He retired from Cricket at the peak of his career. He made immense contribution to cricket and caused to produce so many superstars like Abdul Qadir, Wasim Akram, Waqar Younis and Inzimamul Haq.
After watching his mother suffer miserably from cancer in 1984, Imran Khan vowed to build a cancer hospital and at last with his great endeavors succeeded to open in 1996, Shaukat Khanum Memorial Hospital in Lahore in memory of his mother. The Hospital really proved to be a mammoth project, with the entire nation making contributions towards this noble cause. The Shaukat Khanum Memorial Hospital has gained international recognition in the world where free cancer treatment is provided to the poor patients. Now in Karachi is under way the foundation of another Shaukat Khanum Memorial Hospital for which he is striving day and night.
Imran Khan married Jemima, the daughter of the late multi-millionaire Jew, Sir James Goldsmith in 1995. She embraced Islam and was named as Haiqa. In 1996 Imran Khan, disappointed with the state of national politics, decided to form Pakistan Tehreek-e-Insaf of which he remains the Chairman to date. Imran Khan claims to have entered the field of politics in order to reform the deteriorating social and political conditions of Pakistan. The main aim of his party is to eradicate the evil of corruption from the society and to bring justice to all and sundry. His political career started with him contesting the 1997 general elections in which he was unable to get any seat. In 2002 elections, however, Imran Khan succeeded to secure his own NA seat and is at present an active member of the Opposition struggling hard for the sovereignty of the Parliament.
Government of Pakistan acknowledged the services of Imran Khan when he was given Hilal-e-Imtiaz in 1993.
This article was last updated on Monday, Jan 02, 2012