Nawabzada Liaquat Ali Khan, the second son of Nawab Rustam Ali Khan, was born on October 1, 1896, in a Madal Pathan (Nausherwan) family. He graduated in 1918 from M. A. O. College, Aligarh. After his graduation, he was offered a job in the Indian Civil Services, but he rejected the offer on the plea that he wanted to serve his nation. He married his cousin, Jehangira Begum in 1918. After his marriage, he went to London for higher education. In 1921, he obtained a degree in Law from Oxford and was called to Bar at Inner Temple in 1922.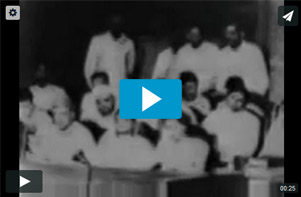 On his return from England in 1923, Liaquat Ali Khan decided to enter politics with the objective of liberating his homeland from the foreign yoke. Right from the very beginning, he was determined to eradicate the injustices and ill treatment meted out to the Indian Muslims by the British. In his early life, Liaquat Ali, like most of the Muslim leaders of his time, believed in Indian Nationalism. But his views gradually changed. The Congress leaders invited him to join their party, but he refused and joined the Muslim League in 1923. Under the leadership of Quaid-i-Azam, the Muslim League held its annual session in May 1924 in Lahore. The aim of this session was to revive the League. Liaquat Ali Khan attended this conference along many other young Muslims.
Liaquat Ali started his parliamentary career from the U. P. Legislative Assembly in 1926 as an independent candidate. Later he formed his own party, The Democratic Party, within the Legislative Assembly and was elected as its leader. He remained the member of the U. P. Legislative Council till 1940 when he was elected to the Central Legislative Assembly.