On October 7, 1958, President Iskander Mirza abrogated the Constitution and declared Martial Law in the country. This was the first of many military regimes to mar Pakistan's history. With this step, the Constitution of 1956 was abrogated, ministers were dismissed, Central and Provincial Assemblies were dissolved and all political activities were banned. General Muhammad Ayub Khan, the then Commander-in-Chief of the armed forces, became the Chief Martial Law Administrator. The parliamentary system in Pakistan came to end. Within three weeks of assuming charge on October 27, 1958, Iskander Mirza was ousted by General Ayub Khan, who then declared himself President.
General Ayub Khan gave himself the rank of Field Marshal. Corruption had become so widespread within the national and civic systems of administration that Ayub Khan was welcomed as a national hero by the people.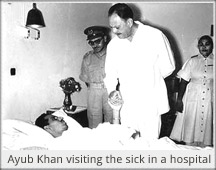 Soon after coming to power, the new military government promised that they would carry out reforms in the entire government structure and would cleanse the administration of the rampant corruption. A thorough screening process of all government servants was conducted and service records were closely scrutinized. Public servants were tried for misconduct by tribunals consisting of retired judges of the Supreme Court or High Court. If charges were proven, disciplinary action such as dismissal or compulsory retirement of the public servant could take place. A public servant could also be disqualified from holding any public office for 15 years.