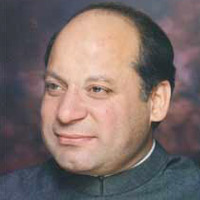 The Pakistani politician and one of the biggest industrialist is now 3rd time Prime Minister of Pakistan after 2013 elections. Previously he served as Prime Minister for two terms from November 1990 to July 1993 and from February 1997 to October 1999.

He is the president of Pakistan Muslim League (N), which is currently Pakistan's largest political party, and has formed the government with majority. However they have taken small parties in their coalition and formed their government in May 2013.

By land sliding victory in recent elections in Punjab he has proved to everyone that he is still the undisputed "Lion of the Punjab and Tiger of Pakistan".

Last Updated: Aug 2013

Muhammad Nawaz Sharif was born in Lahore on December 25, 1949. He is the eldest son of Muhammad Sharif, a joint owner of the Ittefaq Group of Industries.
Nawaz Sharif got his schooling from Saint Anthony's High School. After graduating from Government College Lahore, he obtained his Law Degree from the Punjab University.