On October 12, 1999, the Pakistan Army once again ousted the Civilian Government. At that time Prime Minister Mian Muhammad Nawaz Sharif headed the Government. The coup immediately followed the premier attempt to replace the Army Chief while he was on a tour to Sri Lanka. After two days of chilling uncertainty, Chief of Army Staff General Pervez Musharraf assumed the title of Chief Executive. Although the use of the term "Martial Law" was avoided, Pakistan once again came under military rule. It was claimed that the Army was forced to take this step to save the country from "turmoil and uncertainty".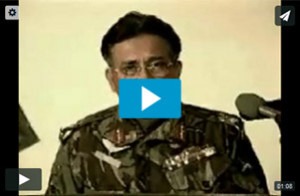 The Supreme Court, in a ruling on May 12, 2000, accepted that a constitutional deviation had taken place in pursuit of rather noble objectives, such as economic reforms and bringing to book the corrupt politicians, bureaucrats and businessmen. The 12 judges based their ruling on the principle of "salus po puli ex supreme lex", meaning that the welfare of the people is the supreme law of any land. The court took the view that there was no other way to remove a corrupt Government except through the intervention of the armed forces. The Supreme Court also directed General Musharraf to hold general elections within three years.
After the military takeover, the former Prime Minister Nawaz Sharif, Shahbaz Sharif (his brother and former Chief Minister of Punjab) and five other officials were booked on charges of hijacking, kidnapping and attempted murder in the "Plane Conspiracy" case. The prosecution's case was based on a police report filed by an Army Colonel. Nawaz Sharif, in his capacity as Prime Minster, was accused of giving orders to the Civil Aviation Authority to prevent a Colombo-Karachi Pakistan International Airlines commercial flight, with Musharraf on board, from landing at Karachi
or anywhere else in Pakistan. He was to face a charge of attempted murder endangering the lives of General Pervez Musharraf and 200 other passengers on board by disallowing the plane to land when its fuel was at a low level. The case was tried by an anti-terrorism court in Karachi, ironically established by Nawaz Sharif himself, which sentenced him to life imprisonment. In their appeal to the High Court, Mr. Sharif's lawyers maintained that no charge of corruption was proved against the former Prime Minister, and that it was the Prime Minster's constitutional right to remove the Army Chief. Later on, Mr. Nawaz Sharif was, however, pardoned and exiled by the military government to Saudi Arabia on conditions that he would forfeit Rupees 500 million (equivalent to roughly US$ 8 million) in property and stay out of politics for the next 21 years.
This article was last updated on Saturday, February 21, 2004