Mir Zafarullah Khan Jamali, the 21st Prime Minister of Pakistan, was born on January 1, 1944, at Dera Murad Jamali in Baluchistan. After getting his primary education in Baluchistan, he went to Lawrence College, Murree, for his O-levels. He did his A-levels from Aitchison College and graduation from Government College Lahore. He obtained his Masters Degree in History from Government College, Lahore.
Mir Zafarullah Khan Jamali began his political career as a member of the Pakistan Peoples Party, which he joined in the 1970's. He was elected member of the Baluchistan Provincial Assembly in 1977 and served as Minister of Food, Information and Parliamentary Affairs in the Baluchistan Cabinet. He also served in the national Cabinet of General Zia-ul-Haq in the 1980's, where he first served as the Provincial Minister for Information, Law and Parliamentary Affairs, and later as Minister of State for Local Government.
Mir Zafarullah Khan Jamali was one of the contenders for premiership after the 1985 elections. Other contenders for the seat of Prime Minister were Muhammad Khan Junejo and Ilahi Bux Soomro. It was, however, Junejo who was selected from among the three by General Muhammad Zia-ul-Haq. Jamali served as Minister for Water and Power in the Government of Prime Minister Muhammad Khan Junejo. He also served once as caretaker Chief Minister and thrice as the Chief Minister of Balochistan, most recently in 1996.
Mir Zafarullah Khan Jamali has traveled widely to Europe, U. S., Australia, Africa, Far East and Middle East, from 1975 to 2000. He represented Pakistan in the United Nations session in 1980 and 1991, and led Pakistan's delegation to the F.A.O. Conference in Rome, in 1981. He led Pakistan's delegation to the Islamic Agricultural Ministers Conference in Ankara, Turkey, and also led a 21-member delegation of the Majlis-i-Shoora to the United States in 1982. He represented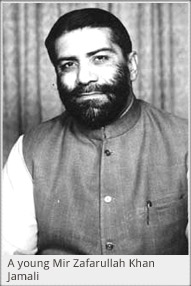 Mir Zafarullah Jamali was among several senior members of Prime Minister Nawaz Sharif's Pakistan Muslim League party who defected after General Pervez Musharraf took over in 1999 and formed their own faction, the PML (Q). Mir Zafarullah Jamali being the Secretary General of the PML (Q) was a strong candidate for premiership; he was elected Prime Minister on November 21, 2002, by securing 172 votes out of 329 votes. Maulana Fazl-ur-Rehman of the Muttahida Majlis-i-Amal and Shah Mahmud Qureshi of the Pakistan Peoples Party Parliamentarians were the other main contenders.
Mir Zafarullah Khan Jamali is the first ever Prime Minister of Pakistan to come from Balochistan Province. He has four sons and a daughter. Two of his sons, Shah Nawaz Jamali and Javed Jamali are serving in the Army as Captains. Mir Zafarullah Khan Jamali can speak multiple languages including English, Urdu, Baluchi, Brohi, Punjabi, Sindhi, Pushtu and Saraiki. He is a middle-of-the-road leader and a soft-spoken person. His love of sports has made a lot of contribution to his well-rounded personality. His main passion was hockey though he also played tennis and football. He was 'Blue' holder of Punjab University in hockey in 1961-65 and also captained its team. He represented Pakistan as a hockey player at international level. He was Chief-de-Mission of the Pakistan Olympic contingent to the Los Angeles games in 1984, where the Pakistan Hockey team won the Gold Medal. For almost two decades, he has been the Chief Selector of the Pakistan Hockey team. Due to his love of sports and a spirit of sportsmanship, he has imbued with tolerance and poise that leads to his successful political career.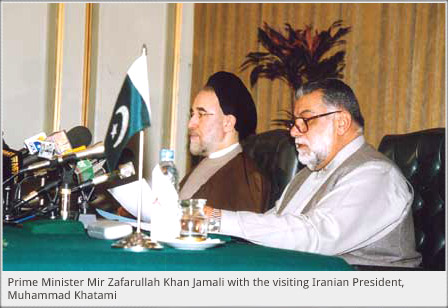 Despite his submissive manner Jamali could not share power with President Pervez Musharraf more than 581 days (from 23-11-2002 to 26-06-2004) and was obliged to resign from his office of premiership on June 26, 2004.
This article was last updated on Saturday, February 21, 2004