Mullah Shah Badakhshi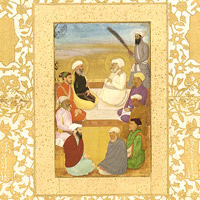 Mullah Shah Badakhshi was a famous saint. He belonged to Qadriya order of Sufism. He is known for his rather secular approach. Mullah Shah was born in the village of Badakhshah and was settled in Kashmir in his early youth. Later he came to Lahore and became a disciple of Mian Mir. Prince Dara Shikoh ranked him fairly high in spiritual stature. In 1639 Dara and princess Jahanara both became his disciples. Since Mullah Shah Badakhshi could not bear the heat of Lahore, Kashmir was his usual resort in summers. For this reason the prince built a khankah (a residential place for Sufis) for him. Due to his excessively liberal approach towards religions he was considered to be a heretic by the intelligentsia who urged Shahjahan to execute him but Dara Shikoh intervened. When Shahjahan visited Kashmir in 1639 he had a meeting with the saint which proved to be positive. Mullah Shah was very pleased with his royal disciples and said that it would facilitate in the promotion of Qadriya order.
In 1658 Aurangzeb was enthroned and Dara was executed in the wars of succession, the ulama at the court asked the Emperor to take strong action against Mullah Shah. Mullah Shah was summoned by the royal authorities, but he did not come with an excuse that he was ailing in Kashmir. The king did not take any action against him. He was, however, asked to settle in Lahore. In 1660 he came to Lahore and remained aloof from all the social activities. He died on 16 Oct 1661.
This article was last updated on Wednesday, Jan 04, 2006