The Indian political community received the Simon Commission Report issued in June 1930 with great resentment. Different political parties gave vent to their feelings in different ways.
The Congress started a Civil Disobedience Movement under Gandhi's command. The Muslims reserved their opinion on the Simon Report declaring that the report was not final and the matters should decided after consultations with the leaders representing all communities in India.

| | |
| --- | --- |
| Part-1 | Part-2 |
The Indian political situation seemed deadlocked. The British government refused to contemplate any form of self-government for the people of India. This caused frustration amongst the masses, who often expressed their anger in violent clashes.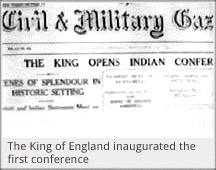 The Labor Government returned to power in Britain in 1931, and a glimmer of hope ran through Indian hearts. Labor leaders had always been sympathetic to the Indian cause. The government decided to hold a Round Table Conference in London to consider new constitutional reforms. All Indian politicians; Hindus, Muslims, Sikhs and Christians were summoned to London for the conference.
Gandhi immediately insisted at the conference that he alone spoke for all