After the 1971 war, India held prisoner around 93,000 Pakistani troops and civilians. In Pakistan there was a growing demand to get these prisoners released with the result that a Summit Conference between Pakistani President, Zulfiqar Ali Bhutto and the Indian leader,

| | |
| --- | --- |
| Part-1 | Part-2 |
Mrs. Gandhi, was held at Simla from June 28 to July 2, 1972. The two countries reached an agreement on July 2. The agreement contained the elements of an earlier Indian draft, but the wording was considerably modified. In particular the clause referring to the ceasefire line in Kashmir was rephrased as to make it acceptable to Pakistan.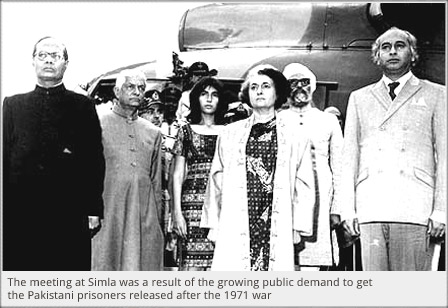 The broad features of this pact included that the principle and purpose of the charter of United Nations would govern the relations between the two countries. The two countries resolved to settle their differences by peaceful means through bilateral negotiations. The foremost conditions for understanding, good neighborly relations, and stable and lasting peace were laid that no country would interfere with the other country's internal matters on the basis of mutual respect for peace, security, territorial sovereignty, mutual friendship and equality.