After the promulgation of the 1973 Constitution, the elections for the President, Prime Minister, Chairman of Senate, Speaker and Deputy Speaker of the National Assembly were to be undertaken. The 1973 Constitution had adopted a federal parliamentary system for the country in which the President was only a figurehead and the real power lay with the Prime Minister.
Z. A. Bhutto was sworn in as the Prime Minister of the country on August 14, 1973, after he had secured 108 votes in a house of 146 members. Fazal Ilahi Chaudhry was elected as the President under the new Constitution.

| | |
| --- | --- |
| Part-1 | Part-2 |
During his period, six amendments were carried out in the 1973 Constitution. The First Amendment led to Pakistan's recognition of Bangladesh. The Second Amendment in the constitution declared the Ahmadis as non-Muslims. The rights of the detained were limited under the Third Amendment while the powers and jurisdiction of the courts for providing relief to political opponents were curtailed under the Fourth Amendment. The Fifth Amendment passed on September 15, 1976, focused on curtailing the power and jurisdiction of the Judiciary. This amendment was highly criticized by lawyers and political leaders. The main provision of the Sixth Amendment extended the term of the Chief Justices of the Supreme Court and the High Courts beyond the age of retirement. This Amendment was made in the Constitution to favor the then Chief Justice of the Supreme Court who was supposed to be a friend of Bhutto.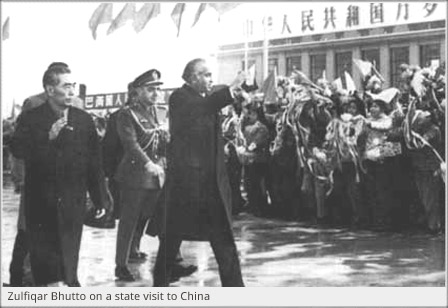 The Bhutto Government carried out a number of reforms in the industrial sector. His reforms were twofold; nationalization, and the improvement of workers' rights. In the first phase, basic industries like steel, chemical and cement were nationalized. This was done in 1972. The next major step in nationalization took place on January 1, 1974, when Bhutto nationalized all banks. The last step in the series was the most shocking; it was the nationalization of all flour, rice and cotton mills throughout the country.
This nationalization process was not as successful as Bhutto expected. Most of the nationalized units were small businesses that could not be described as industrial units, hence making no sense for the step that was taken. Consequently, a considerable number of small businessmen and traders were ruined, displaced or rendered unemployed.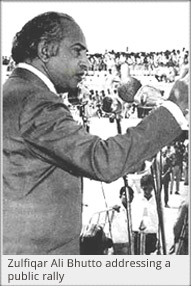 In the concluding analysis, nationalization caused colossal loss not only to the national treasury but also to the people of Pakistan. During his period as the Prime Minister, a number of land reforms were also introduced. The important land reforms included the reduction of land ceilings and introducing the security of tenancy to tenant farmers. The land ceiling was fixed to 150 acres of irrigated land and 300 acres of non-irrigated land. Another step that Bhutto took was to democratize Pakistan's Civil Service.
This article was last updated on Sunday, June 01, 2003