Zulfiqar Ali Bhutto was born on January 5, 1928. He was the only son of Sir Shah Nawaz Bhutto. Zulfiqar Ali Bhutto completed his early education from Bombay's Cathedral High School. In 1947, he joined the University of Southern California, and later the University of California at Berkeley in June 1949. After completing his degree with honors in Political Science at Berkeley in June 1950, he was admitted to Oxford.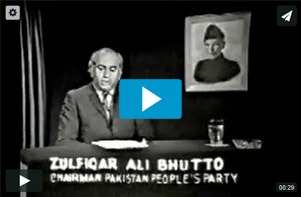 Zulfiqar Ali Bhutto married Nusrat Isphahani on September 8, 1951. He was called to Bar at Lincoln's Inn in 1953, and the same year his first child, Benazir Bhutto, was born on June 21. On his return to Pakistan, Bhutto started practicing Law at Dingomal's.
In 1958, he joined President Iskander Mirza's Cabinet as Commerce Minister. He was the youngest Minister in Ayub Khans Cabinet. In 1963, he took over the post of Foreign Minister from Muhammad Ali Bogra.
His first major achievement was to conclude the Sino-Pakistan boundary agreement on March 2, 1963. In mid 1964, Bhutto helped convince Ayub of the wisdom of establishing closer economic and diplomatic links with Turkey and Iran. The trio later on formed the R. C. D. In June 1966, Bhutto left Ayub's Cabinet over differences concerning the Tashkent Agreement.
Zulfiqar Ali Bhutto launched Pakistan Peoples Party after leaving Ayub's Cabinet. In the general elections held in December 1970, P. P. P. won a large majority in West Pakistan but failed to reach an agreement with Sheikh Mujib-ur-Rahman,